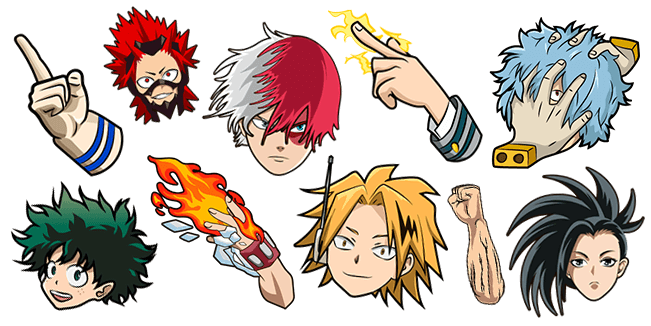 My Hero Academy cursor collection is based on a very popular anime series. The plot tells us about a guy named Izuku Midoriya, who dreamed about becoming a hero. But ironically, he remains an ordinary person without any ability. Despite this, the young man continues to stubbornly go towards his goal. His rival and at the same time the bully is Bakugo Katsuki. In BHNA he humiliates our hero, arguing that he is not capable of anything. And strangely both boys become students of the hero academy.
Dive in to a story that will change your vision of ​​the real world. What would happen if newborn babies were born immediately with superpowers? In this anime, ninety-nine percent of people are born right away with cool skills. However, Midoriya turned out to be one of those who got into a single percent. That is why his life was incredibly complicated. He has to keep up with the development and usefulness of those guys who have the coolest skills. However, Midoriya does not lose hope that he will soon become a superhero! 
Choose your favorite BHNA character cursor from our collection. Will it be Izuku Midoriya cursor, cursor of Shoto Todorokim, Tomura Shigaraki cursor or any other My Hero Academy character cursor from our collection.